Apartment Hunting

One Apartment and Four Multi-Family Projects Earn Honors
Featured Projects
Duvall Court by KUBE architecture PC

13th Street Sanctuary by StudioMB

The Batley by Hickok Cole and Shalom Baranes Associates

Waterview Condominium by Robert M. Gurney, FAIA, Architect

Signature at Reston Town Center by Shalom Baranes Associates

Duvall Court

Washington, DC
KUBE architecture PC
Washingtonian Residential Design Award
An example of
"densification in a nice way—exemplary in rethinking the city, using space that is available without adding towers… modest, but there's a real sense of [the urban] fabric."
—Jury Comment
Duvall Court is one of a growing number of small residential projects in Washington, DC helping to revive historic alleys in residential neighborhoods—until 2016, this site was deemed unbuildable by the DC Zoning Code. With limited footprints, the architect incorporated seven small rowhouses onto the site, each with common components derived from one prototype. Most units are 13 feet wide; one unit is nine feet wide. On the outside, bright colors bring energy to the site. Each unit is also topped with walkable green roofs. Inside, large windows allow ample natural lighting within.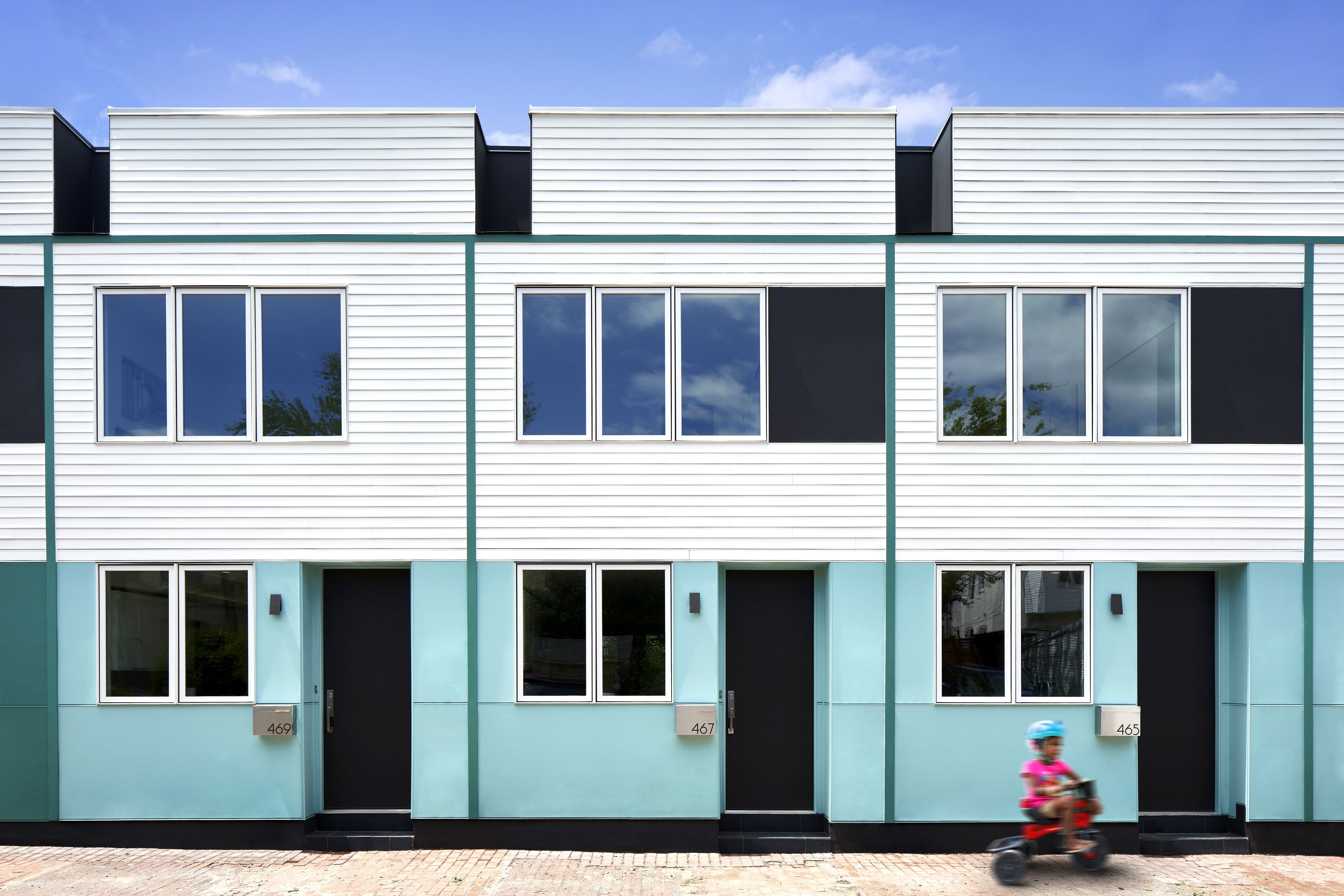 Project Credits
Structural Engineers: JZ Structural Consulting Inc.
Specialized Millwork: Mersoa Woodwork & Design LLC General Contractor: OPaL Custom Homes and Renovations LLC
Photographer: © Greg Powers Photography
---
13th Street Sanctuary

Washington, DC
StudioMB
Washingtonian Residential Design Award
An exemplary adaptive reuse project with
"clarity about what was new and what was existing."
—Jury Comment
In 2011, the 5.8 magnitude Virginia earthquake caused minor-to-moderate damage as it fanned out across several states and Washington, DC. Sustaining damage and deemed unsafe, the congregation sold this church and moved. As an adaptive reuse project, the architect was commissioned to renovate the existing building into a new eight-unit co-living structure—co-living referring to shared housing models responding to high living costs and increased debt with a desire for tenants to offset expenses.
Central to the project was maintaining the historic architectural features while inserting modern materials and fixtures. The new building contains 46 private bedrooms and bathrooms with shared kitchens, living rooms, and common areas across four levels. Additional floors were added into the sanctuary, the tower was converted into a new stairway, and exterior walls and roofing were thermally improved. The resulting design blends old and new in a balanced way.
Project Credits
Interior Designers: StudioMB in collaboration with Common
Structural Engineers: Ehlert Bryan
MEP Engineers: MC Engineers
Civil Engineers: CAS Engineering
General Contractor: Harbour Builders
Photographer: © Thomas Holdsworth
---
The Batley

Washington, DC
Hickok Cole
(Interiors);
Shalom Baranes Associates
(Base Building) Chapter Design Award in Interior Architecture
Located in the Union Market area of DC's thriving NoMa neighborhood, the Batley offers 423 studio, one-bedroom, and two-bedroom units in a new apartment building—the base building designed by Shalom Baranes Associates. The interiors, designed by Hickok Cole, fuses luxury living with modern farmhouse aesthetic. To create their vision, Hickok Cole designed custom-fabricated elements, including corridor carpets, door surrounds, wall graphics, and light fixtures, as well as some furniture and décor. Other notable features include cowhide wallpaper, wheat-patterned wood carpets, and botanical murals. Local artisans fabricated many of the custom furniture pieces. This project was honored by the jurors for its color palette and surprising materials.
Project Credits
Landscape Architects: Parker Rodriguez
Mechanical/Plumbing Engineers: Ark Construction Group
Electrical Engineers: Power Design
Custom Fabricators: Corehaus
FF&E Procurement: MOI
General Contractor: John Moriarty & Associates
Photographer: © Garrett Rowland
---
Waterview Condominium

Arlington, VA
Robert M. Gurney, FAIA, Architect
Washingtonian Residential Design Award
Located on the 30th floor of the Pei Cobb Freed & Partners-designed Waterview Condominium, this penthouse apartment offers unparalleled views across the Potomac River into the nation's capital. Inspired by origami, the architect reformatted the ceiling with angled planes that lead the eye upward to the window tops—increasing the height to emphasize the glass curtain wall. The design works around immovable ductwork and pipes to achieve the striking result. Amenities include a Japanese soaking tub in a spa that serves as a tranquil retreat for the owner. In the dining room, a 180-million-year-old Ichthyosaur Fossil was inserted into a slate wall making it a visual talking piece for guests.
Project Credits
Interior Designer: Baron Gurney Interiors
Structural Engineers: Tadjer-Cohen-Edelson & Associates Inc. General Contractor: Peterson and Collins Inc.
Photographer: © Anice Hoachlander/Hoachlander Davis Photography (unless otherwise noted)
---
Signature at Reston Town Center

Reston, VA
Shalom Baranes Associates
Washingtonian Residential Design Award
"It's easy to do a sweet little house, but it's hard to get it all right with a big building, and theis one does."
—Jury Comment
The Signature site, located on a prominent corner of Reston Town Center, is the last major piece of a decades-long master plan and build-out that completes the vision of Robert Simon for an interconnected network of urban villages in Reston, Virginia. The team found inspiration for the design in the nearby satellite village of Lake Anne, a 1960s-era community that embodies a brutalist modern language also envisioned by Simon. Over 500 apartments are incorporated into two residential towers. Colored bricks delineate the project's three-dimensional massing. The project includes parking, a grocery store, and townhomes.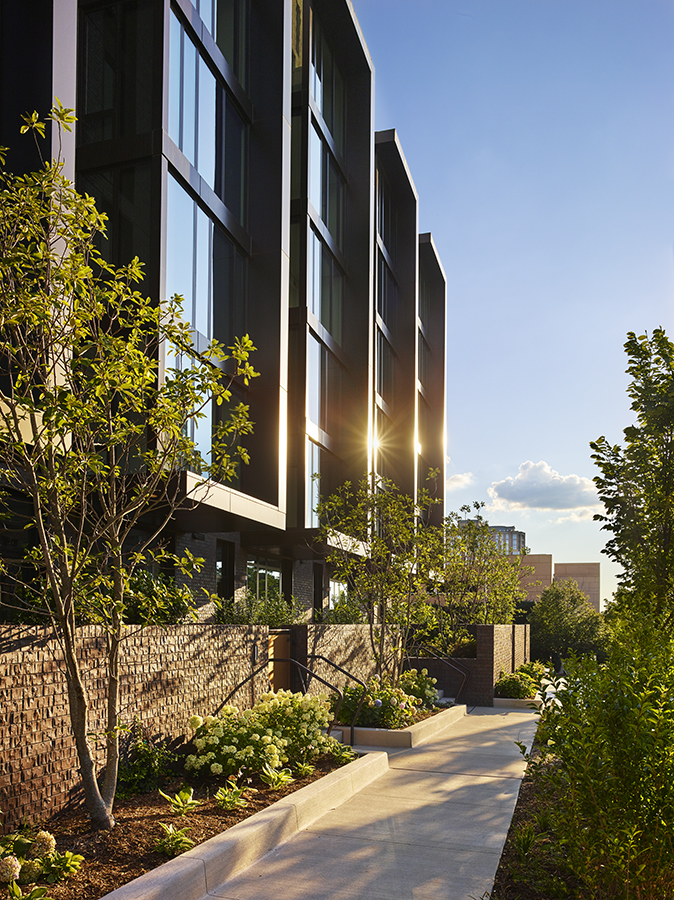 Project Credits
Interior Design Consultants: Hartman Design Group
Landscape Architects: LSG Landscape Architects
Structural Engineers: Thornton Tomasetti
MEP Engineers: WSP
General Contractor: HITT Contracting
Photographer: © Alan Karchmer/OTTO
Back to
2020 Awards Show